Updated August 23, 2021
Reviewed by Robert Tschudi, Home Building & Remodeling Expert.Written by HomeAdvisor.
Cost to Build a Patio Enclosure
The average cost to build a patio enclosure is around $16,636 total with most homeowners spending between $8,232 and $25,039. Depending on what you envision, you may spend anywhere between $22 and $75 per square foot with respect to its features, labor and material.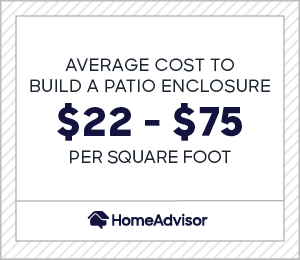 Within the prices ranges above, labor makes up an average of $20 and $40 per square foot. In addition, the cost of materials, depending on the type you choose, accounts for anywhere between $2 and $35 per square foot. Keep in mind, costs vary due to the square footage of the chosen space, the type of enclosure, and other features such as roofing, flooring, and amenities.
Thank you for submitting your feedback.