May 10, 2021
Reviewed by Dan DiClerico, Smart Home Strategist and Home Expert.Written by HomeAdvisor.
Interior Painting Cost Per Square Foot
Painting a home interior or room costs $2 to $6 per square foot with most jobs averaging $3.50 per square foot. Total painting project costs range between $954 and $2,892 with a national average of $1,895. For an entire 2,300 square foot home, expect to pay between $4,000 and $11,000. For a single room, you'll spend anywhere from $200 to $1,000.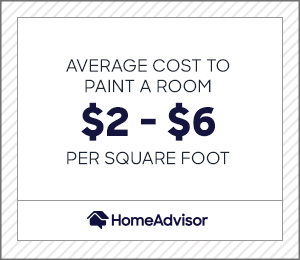 Painting is one of the quickest and easiest ways to give your home's interior a facelift with dramatic results. Fortunately, it doesn't have to be that difficult. Home improvement stores offer samples that you can take home. With these samples, you can try a few colors in large swaths on your wall to see the how the paint interacts with the room's natural light. Compare it against design elements like pillows or furniture to see whether it will work with your overall décor.
Thank you for submitting your feedback.