2021 Notice: Material Prices are Surging
Demand for siding has grown over the past year. And, as a result, manufacturers are increasing materials prices. Prices have gone up 5% to 10% this year, and many parts of the country are experiencing long delivery times. If you're planning a siding project, we recommend starting as early as possible in the season, preparing for potential price fluctuations, and allowing extra time to order materials.
Reviewed & approved on June 26, 2020 by Cati O'Keefe, Expert Home Building & Sustainability Contributor.
Written by HomeAdvisor.
Cost to Build a House
On average, it'll cost $294,007 to build a house, with most homeowners spending between $134,303 and $455,785 to build their new home. New home construction typically falls between $100 and $200 per square foot but custom and luxury options can reach $500 or more per square foot. Labor makes up roughly 40% of the build cost, with permits, design fees and materials making up the rest.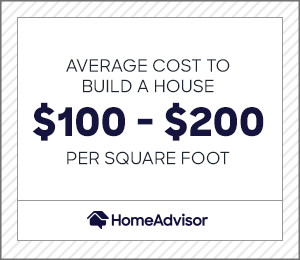 Building a new home gives you the opportunity to meet your specific design and functionality requirements. Say you decide to build your own home, what will it cost? In short, there are many factors that will influence your bottom-line price, including the location of your home, the building materials and products you select, pricing differences among regions and home type and the cost of labor in your area. This guide will detail those important factors, plus other issues you must consider before you get started designing your dream home.
Thank you for submitting your feedback.