Gutter Cleaning Services Near You
Compare pros in your area - free!
How It Works
Answer a few questions about your home project.

Within seconds, get matched with top-rated local pros.

Compare quotes and choose the best pro for the job.
Gutter & Downspout Cleaners In Your Area
" Very responsive customer support."

4.0 star review from Rob C. in Fairfax Station, VA

"Awesome "

5.0 star review from Oleg P. in Minneapolis, MN

"Finest Chimney did a excellent job cleaning my chimney. They were vert professional. "

4.5 star review from Theresa M. in Fredericksburg, VA

"I rated the value for the money as 3 stars, only because the price for one side of my house to be power washed was not based on square footage or any measurements, it was a set amount. I could have had a mansion or a tiny home, since they never asked my address, my measurements or anything before quoting the set price. The woman who called me for the quote, called almost immediately after I submitted my request and was extremely friendly and we made the appointment for that same week. I explained my health conditions and she was able to request no contact by their tech. I removed half a star for customer service since they don't accept credit card payments and I had to dig out my old checkbook, thank goodness I had a few checks still remaining. If they offered different payment options to customers I'd instantly bump them up to 5 stars for their excellent communication, friendly demeanor and helpful understanding of my circumstances. "

5.0 star review from karina K. in Sterling, VA

"The job was done promptly, and in addition to power washing the vinyl siding, he also power washed my concrete front steps."

4.5 star review from David A. in Manassas, VA

"All great"

5.0 star review from Ingo C. in SPRINGFIELD, VA

"Andy and his team did an outstanding job helping me prepare my house to be sold. They went over and above in painting the the enter interior of my three level townhouse and in addition did many cosmetic repairs like fixing gaps in flooring, installing new vanity lights, carpet cleaning and landscaping the yard. Andy explained everything in detail and answered questions thoroughly. His crew was very professional and neat, always polite and consistently cleaned up as they went along. I 100% recommend The Bucket List! "

5.0 star review from Lori K. in Ashburn, VA

"Very professional and a pleasure to work with. They were on time, clean and did an outstanding job cleaning my windows, sils, screens and power washing my porch."

5.0 star review from Marian H. in Leesburg, VA

"Guys were very knowable . Showed up and completed job on time. Quality of work was impressive . I would recommend Witt to family and friends. Pricing was competitive . "

5.0 star review from Mark zwilsky Z. in Leesburg, VA

"Prompt and thorough. "

5.0 star review from Dennis S. in FAIRFAX STATION, VA

"Richard is a very hard worker. "

5.0 star review from Angie C. in Gainesville, VA

"Tim Gagnon is a true professional. He and his team pay close attention to detail and their performance is top notch. I particularly appreciate the quality of the work. I would recommend Tim without reservations. George V. Alexandria, VA"

5.0 star review from George V. in Ashburn, VA
---
How much do gutter cleaning services typically cost?
Ashburn, VA Average

$142

Typical Range

$104 - $188

Low End - High End

$75 - $300
Costs for related projects in Ashburn, VA
Experts recommend cleaning gutters out at least twice per year - once in the spring and again in the fall. This is because leaves and other debris can fall and get trapped in your gutters and downspouts, causing clogs when rain falls and snow melts leading to water damage to other parts of your home including your foundation. While it may sound easy to get the ladder out and do this project yourself, it's best to leave this job to the professionals to avoid injury or damage to your gutters - especially if you have a high roof. Enter your zip code and let HomeAdvisor connect you with gutter cleaning services near you who are ready to help.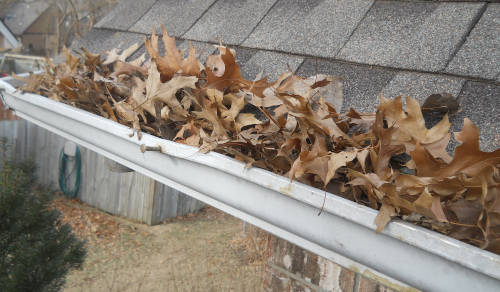 Frequently Asked Questions
How much does it cost to clean my gutters?
The average cost of gutter and downspout cleaning is about $160, or between $120 and $225. The total depends on factors like the height of your house and the condition of your gutters. To get an approximate cost, use linear feet or the square footage of your house.
Linear feet: estimate how long your gutters are and multiply by:

Single-Story Home: $1 per linear foot.
Two-Story: $2 per linear foot.

Square feet: measure your property, excluding areas without gutters, and multiply by:

Single-Story: $0.40 per square foot.
Two-Story: $0.80 per square foot.
Why is it important to clean my gutters?
Professionals recommend you clean your gutters up to three times a year: In the spring, summer and fall. Clean gutters with gutter guards at least once a year.
Clogged gutters can cause pooling on your roof, which is one of the most expensive components of your house. Pooling water leads to leaking and overflowing, which puts your roof, interior or foundation at risk for damage.
What does gutter cleaning include?
A licensed gutter cleaner will inspect your gutters and remove dirt and debris from them.
If you have a gutter guard, they will clean it out and inspect it to make sure there is no damage. Your service professional can also repair fasteners and seals while they are cleaning.
How long does it take to clean my gutters?
It takes up to two hours to clean gutters on a one- or two-story home. Removing gutter guards can add more time to the process. Large homes or those with high roofs or a significant slant may require more time. Talk to your service professional about the length of time needed to complete the job.