Conservatory Cost
Most conservatories cost around $30,000. Including installation, your project will likely fall between $10,000 and $80,000. That averages between $200 and $400 per square foot. You can find modular kits for detached garden rooms, which range between $7,000 and $25,000.
A conservatory is a space you can use to grow plants and spend time. Its glass enclosure calls back to its history of growing tropical fruits in colder climates. Orangeries still have that function and are more elegant than other options.
The area is usable as a garden room or garden office, or a lean-to conservatory that simply extends an existing space. Think of it as a more livable greenhouse that's attached to your home. It lets more light in than a sunroom, thanks to more windows and a glass roof. The complexity of installation means you should hire a professional for the building process.
Cost of a Conservatory
| | |
| --- | --- |
| Average Cost | $30,000 |
| High Cost | $80,000 |
| Low Cost | $10,000 |
The wide range of $10,000 to $80,000 shows how many factors play into your budget. Size is an important variable. So is deciding whether you choose to add onto existing space or build an entirely new room. Frame type, roof, building regulations, and other considerations can also change your rates.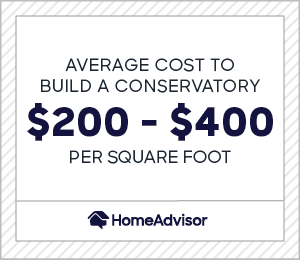 Large vs. Small Conservatories
A small conservatory measures 10x10 feet (about 3x3 meters), and costs as little as $10,000. A large extension of your living space at 20x30 feet can go as high as $80,000. Many homeowners split the difference. They build a 10x15 foot garden room for $25,000 to $45,000.
Conservatory Cost by Size

| Size in Feet | Range | Typical Purpose |
| --- | --- | --- |
| 10x10 | $10,000 - $18,000 | Small Sitting Area |
| 10x15 | $25,000 - $45,000 | Garden Office |
| 10x10 | $35,000 - $60,000 | Living Room Extension |
| 10x10 | $50,000 - $80,000 | Large Dining Extension |
New Conservatory vs. Garden Room Extension
Instead of constructing a new room, you can build onto an existing space. The price to build a patio enclosure can be as low as $3,000.
Another option is to convert a greenhouse to a livable conservatory. Just add insulation and climate control. Expect to pay between $5,000 and $20,000 to enhance your greenhouse.
Glass Roof vs. Tiled
Most garden rooms have glass roofs, which range between $6,000 and $12,000 to install. You can also lower the price. Adding a tile roof costs between $3,000 and $8,000. A glass roof is essential to grow plants and will make the space a true extension of the outdoors.
Frame Type
Choosing the right frame material is important for both style and structural integrity. The material you choose also has a major impact on your budget.
Conservatory Frame Materials Price and Purpose

| Frame Type | Price Range | Pros | Cons |
| --- | --- | --- | --- |
| Wood | $10,000-$40,000 | Natural, Traditional look | Frequent maintenance required |
| Metal/Aluminum | $20,000-$50,000 | Strong, Low maintenance | Potential insulation problems |
| PVC/Vinyl | $15,000-$60,000 | Low maintenance | Needs to be thick to be strong |
| Frameless | $50,000-$70,000 | True outdoor extension | Expensive, Low durability |
Hire a Pro To Build Your Conservatory Addition
Flooring choices range from wood to tile, depending on its purpose. Don't forget about underfloor insulation, which ensures warmth during colder months. That adds between $0.90 and $2.00 per square foot to your budget.
Regulations & Building Permits
If you need a permit, expect to add $50 to $200 to the project. It also extends your timeline by four to eight weeks. Permit requirements differ by local rules and regulations.
Most living space additions will require permission from local authorities. Talk to your contractor about regulations and necessary steps before starting the project.
Cheap, Self-Built Home Conservatory Additions
If you take on the project yourself, you can save on professional labor. In that case, you pay between $5,000 and $50,000 for materials alone. You'll have to know exactly what materials you need, and how much.
If the conservatory connects to your home, you also need to know where and how to cut open your exterior walls. DIY for this type of project is complex. It cuts your budget in half. But it also requires significant expertise in engineering, contracting, and more.
Consult With a Pro When Planning Your Conservatory
Lean-To Conservatory Quote Calculator
Lean-to is the simplest and most price-effective option at $15,000 to $35,000. This Mediterranean style is typically an addition to an existing space, not a room on its own. Larger versions, up to 15 by20 feet, can expand that use.
Clean, symmetrical lines make construction easy and complement modern house designs. It's a great addition to a small home, increasing the area of a central room or adding a home office nook. Choosing lean-to means prioritizing function over style.
Average Garden Room Prices by Design
The broad conservatory category includes several styles. Each of them comes with their own advantages, disadvantages, and budget considerations.
Garden Rooms by Design Type

| Design Type | Price Range |
| --- | --- |
| Mediterranean/Lean-To | $15,000 - $35,000 |
| Victorian | $15,000 - $60,000 |
| Natural | $10,000 - $50,000 |
| Gable | $20,000 - $60,000 |
| Modern | $10,000 - $70,000 |
Mediterranean/Lean-To
The $15,000 to $35,000 range includes a simple, straightforward design that prioritizes natural light. As mentioned above, this style is especially beneficial for additions to existing rooms.
Victorian
At $15,000 to $60,000, Victorian rooms follow a classic style. They often feature multiple softer angles instead of a typical rectangle.
Expect to increase your budget for French doors, which are typical for this style. This option tends to be white, with PVC as the main building material.
Natural
A more rustic look uses wooden materials and costs between $10,000 and $50,000. This option is especially popular for homeowners who build the space specifically to connect with nature. Interior design tends to complement the natural look, with wooden floors and rustic decor.
Gable
Especially popular for freestanding structures, gable designs range between $20,000 and $60,000. Intricate windows and other decorative finishes help you make a statement beyond adding function. Because of that intricacy, your window installation budget will be on the higher end of the $2,500 to $7,500 range.
Modern
Modern styles range from $10,000 to $70,000. They include anything from Mediterranean to frameless. Clean, symmetrical styles dominate. PVC and aluminum are most prevalent if you choose to frame the room.
Cost Estimate to Build an Orangery
At $40,000 to $80,000, an orangery is the most expensive type of garden room. It's modeled after conservatories in the 17th and 18th century, when upper class citizens built expensive structures to grow tropical fruits.
Especially in colder climates, the purpose of orangeries was to grow and protect citrus trees from frost. Today, the same type of building acts as a high-level addition to your home. The most common framing material is brick.
Oak framed orangeries cost less than brick alternatives. Both are on the higher end of the budget range because of their design.
A conservatory is a stylistic addition to your existing space, while an orangery adds a touch of luxury. It typically stands apart from your home stylistically. Think of it as a formal living room that is separate from your existing family space.
Consult with a Pro When Adding an Orangery on Your Property
DIY vs. Hiring a Pro
Technically, you can build the space yourself. The process is complex, and involves foundation work as well as landscaping, building, roofing, and electrical skills. That's why in most cases, you should hire a pro to build your conservatory.
A DIY project saves budget. But it can invite potential problems down the road. The foundation might sag. You might compromise the structural integrity of the space.
FAQs
What's the Difference Between a Garden Room, Conservatory and Greenhouse?
The price of building a greenhouse ranges between $5,000 and $20,000. That compares favorably to the cost of an attached conservatory or detached garden room.
Both terms are generally interchangeable. However, garden room sometimes refers to a detached outbuilding with no direct connection to your home. Both are different from a greenhouse: they offer living space in addition to the possibility of growing plants.
What is the difference between a conservatory and sunroom or solarium?
A four-season sunroom costs between $20,000 and $80,000. Sunrooms are more common in the United States, offering more enclosure. They typically feature a tile roof and only some windows.
A solarium is like a garden room and will range between $30,000 and $75,000. It also features a full glass enclosure but will function exclusively as a living space.
What is a garden office, and how much does it cost to build one?
A garden office ranges between $10,000 and $40,000 in most cases. Think of it as a mix between sunroom and home office. Garden offices are often glass-encased. They are comfortable workspaces but separate from your living area.
Garden offices can be conservatories that connect onto your home, or separate outbuildings with their own heating and insulation. Your budget should account for materials, construction, insulation, and electrical work.
How much does a glass roof cost per square foot?
Expect to pay between $15 and $60 per square foot for your glass roof. That price includes the glass itself, as well as installation. Where you fall on that range depends on the quality of glass, type of frame, and more.
What's the cheapest way to get a conservatory built
The easiest option is to buy a modular kit for as little as $7,000. However, it comes with a few disadvantages. The insulation might not be effective. It also must be freestanding and cannot be an addition to your existing space.
Hire a Conservatory Addition Building Professional
Thank you for submitting your feedback.