Reviewed & Approved on October 2, 2020 by Dan DiClerico, Smart Home Strategist and Home Expert.
Written by HomeAdvisor.
Wood Flooring Cost
Most hardwood flooring installers charge between $6 to $12 per square foot at an average cost of $8 per square foot. High end jobs may run as high as $13 to $25 or more per square foot. Total project costs typically fall between $2,492 and $6,760 or $4,537 on average. About 50% to 75% of your budget goes to materials with the rest, or $3 to $5 per square foot, going to labor.
Average Cost to Install Hardwood Flooring
| | |
| --- | --- |
| Average Cost | $4,537 |
| Typical Range | $2,492 and $6,760 |
| Low | $1,000 |
| High | $11,000 |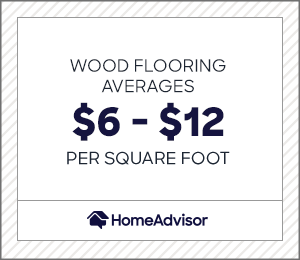 Most pros include old floor removal, new floor installation and trim in the price. While hardwood is far from the cheapest option on the market, it's popular for its classic and warm appearance, durability and versatility. It both adds resale value and helps increase its marketability. You'll have two main choices: solid or engineered hardwood with multiple colors and wood types to choose from.
Hardwood Flooring Cost Per Square Foot
Installing hardwood flooring averages between $6 and $12 per square foot. Wood flooring costs $3 and $7 per square foot for materials and about $3 to $5 per square foot in labor to install.
Hardwood Flooring Cost Estimator
| Flooring Total Square Footage | Average Total Cost |
| --- | --- |
| 500 | $3,000 - $6,000 |
| 1,000 | $6,000 - $12,000 |
| 1,200 | $7,200 - $14,400 |
| 2,000 | $12,000 - $24,000 |
Get Real Project Estimates From Flooring Installers
Wood Type
Average Total Cost Per Square Foot
Pros & Cons
Maple
$6.50 - $11

Dent resistant.
Good for high-traffic areas.
Creamy white to pale red in color.

Pine
$4.50 - $10

Rustic knot patterns.
Light beige to rich golden amber.
Dents easily.

Bamboo
$5 - $11

Sustainable.
Pale yellow to green.
Extremely hard and durable.

White Ash
$9 - $13

Soft, light tan to pale gray.
Visible knots to clear grades.
Durable but hard to stain.

Hickory
$6 - $13

Exceptional color variation.
Hard density.
Works well in high-traffic areas.

Red Oak
$8 - $13

Reddish, tight highly visible grain.
Extremely durable.
Creates a warm ambiance.

White Oak
$8 - $15

Reddish, tight, highly visible grain.
Extremely durable.
Creates a warm ambiance.

Brazilian Walnut
$11 - $20

Exotic hardwood.
Extremely hard and durable.
Expensive.
You have extensive choices in both engineered and traditional solid wood options of:
Color
Grain
Tree species
Width
Although many people speak about hardwood floors as a single building material, it's more complex. Hardwood comes from many tree species, usually new growth (a softer "hardwood"). Each type has different ranges of color, price and durability.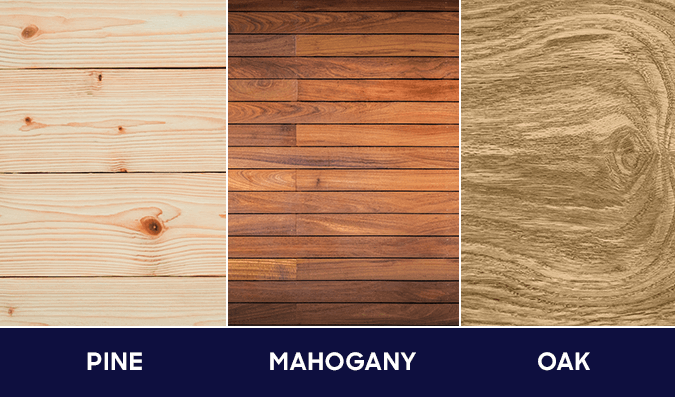 Traditional Wood Flooring Costs
| Wood Type | Material Cost Per Square Foot | Installation Cost Per Square Foot |
| --- | --- | --- |
| Pine | $1.50 - $5 | $3 - $5 |
| Teak, American Cherry, Oak | $5 - $15 | $3 - $8 |
| Brazilian Walnut, Tigerwood, Mahogany, Cypress | $8 - $18 | $4 - $8 |
Traditional wood flooring typically comes in narrow boards 3 inches wide or less. Traditionally, it's also installed unfinished and finished in place, raising the labor costs $2 to $5 more per square foot than listed above.
| Style | Cost per Square Foot |
| --- | --- |
| Wood Look Tile | $10 - $20 |
| Wide Plank | $4.50 - $18 |
| Herringbone Pattern | $5 - $16 |
| Real Parquet | $20 - $45 |
| Parquet Style Tiles | $7 - $10 |
Wide Plank Wood Flooring Prices
| Price Range | Material Price(per square foot)* | Notes |
| --- | --- | --- |
| Low | $1.50 - $3 | Usually new, fast growth or engineered. |
| Mid | $3 - $6 | Harder than new growth or luxury engineered. |
| High | $6 - $12 | Designer brands, thick luxury hardwoods, exotic species, old growth. |
*Doesn't include labor costs of $3 to $6 per square foot.
Wide plank flooring costs anywhere from $1.50 to $12 per square foot for the boards alone with $3 to $4 per square foot for labor. Wider boards means less to lay to cover the same area, meaning you'll pay on the lower end for labor.
Wood Look Tile Flooring Cost
Installing wood look tile costs $900 to $2,900 or $15 to $20 per square foot. As the name implies, it's not wood. Instead, it's a tile that looks like wood with approximately the same plank size.
It's more expensive than wood, but also more resilient and won't rot or warp in damp places. It makes a great addition to basements for the look without the drawbacks.
Herringbone Wood Flooring Cost
Herringbone wood floor patterns add 30% to the cost of the same flooring in a traditional parallel pattern.
Herringbone wood floors describe the pattern you lay the floor in and nothing else. You use the same materials as you would for any other floor and the same professional installation. But, since you're laying it at angles, you'll have more waste and it'll take longer to install, increasing both how much you spend on materials and labor.
For example, if you picked out your own wood for $5 per square foot and labor was $4 per square foot for a traditional floor – or $9 per square foot total – expect to pay $12 per square foot to have it laid in a herringbone pattern.
Parquet Flooring Costs
Real parquet flooring, handcrafted floors with small hardwood, costs $20 to $45 per square foot. But handcrafted parquet is no longer common. More often, you'll find parquet style flooring kits with a premade wooden tile that, when put together, looks like the classic design. These tile Parquet hardwood flooring kits cost an average of $15,000 to install or $7 to $10 per square foot.
Compare Project Estimates From Local Hardwood Flooring Pros
Cost to Install Hardwood Floors
You'll spend anywhere from $3 to $6 per square foot to install your hardwood floors. This doesn't include any material or delivery costs. Buying your own wood and hiring a pro for installation might cost a bit more since pros get discounts on flooring, but it lets you better control the type, style and quality of planks you purchase.
Cost to Install Prefinished Hardwood Flooring
Prefinished hardwood flooring installation costs $6 to $12 per square foot. Any type of floor found in big box stores comes prefinished. Traditionally, unfinished planks were laid in place and finished as a final step. But prefinished flooring, sanded and varnished at the factory, became popular almost 80 years ago. Since then, most of what you find is finished.
"The time your project will take and the amount of people required to do the job will factor into your total installation costs. Be wary of 'Free Installation' gimmicks. When it comes to installation, you get what you pay for and the product you select will only be as good as quality of install." Tom Wood, President & CEO.
Floor Coverings International
, Concord, CA
Hardwood Flooring Installation Cost Factors
The cost factors that affect hardwood flooring installs include:
Repairing or replacing subfloors costs $500-$800. This is the floor sheathing above the joists.
Floor joist repairs cost $40-$60 per square foot. If you have extensive rot or insect damage, you may need to reinforce the joists in your floors.
Actual wood hardness. The harder the wood, the harder it is to work with and the longer it'll take to install. Exotic hardwoods like Brazilian walnut and teak tend to take longer than softer young growth hardwoods like pine.
Angled patterns, like herringbone, take more time to install, require more cuts and ultimately more waste. All of this adds up to more time and money.
Ease of installation. Complex room layouts or rooms with counters often require more time for the installation. Although minimal, it's likely to raise the bill slightly.
Engineered Wood Type
Total Cost Per Square Foot
Description
Basic
$4.50 - $9

Three core layers.
Veneer between 1/16- to 1/12-inch thick.

Mid
$6 - $12

Thicker veneer.
Five-layer core.

High
$9 - $16

Top-of-the-line have seven or more core layers.
1/6 inch or thicker veneer.
Veneer often an exotic hardwood.
Engineered wood floors may not last a century like some well cared for solid wood floors, but they do perform well for less upfront cost. With their increased durability and moisture resistance, engineered wood floors are a better option than traditional hardwoods for the budget conscious.
Here are a few of the most popular engineered flooring options, along with some unique characteristics of each and average pricing:
Maple: Colors range from creamy white to rich red; can be fastened, glued down or glued together
Heart Pine: With nail holes, gouges and attractive knots, this engineered floor has vintage charm.
White Ash: A variation of colors and grain patterns give this flooring interesting character that hides imperfections well.
Brazilian Cherry: Exotic wood with warm red-brown tones and rich hues.
Brazilian Koa: A distinct orange color with rich, dark brown striping makes this a standout option if you want a bold look.
Acacia: Attractive contrasts of medium brown colors and interesting graining makes this a popular option if you're searching for a rustic, Colonial look.
Debating between installing engineered wood and laminate faux wood flooring? Consult our Comparison Guide for more.
Floating Wood Flooring Cost
Floating wood floors cost anywhere from $6 to $15 per square foot to install. These come in a wide variety of designs, thicknesses and qualities. Engineered wood floating floors use a groove system that "locks" the planks together, removing the need for glue or nails.
Cost to Replace Hardwood Flooring
Removing old flooring adds anywhere from $1 to $13 per square foot in addition to the $6 to $12 per square foot to install new floors. The wide price range comes from the type of flooring you have. Tearing out a floating floor is rather quick and painless with nothing nailed or glued down. But a 50-year-old seasoned hardwood floor may take hours to remove correctly.
Cost to Redo Hardwood Flooring
Hardwood floor refinishing costs $1,100 to $2,500. Redoing, resurfacing or refinishing hardwood flooring leaves your floors alone, but sands them down to level them out and puts a new coat of varnish or another protectant on top.
Cost to Replace Carpet with Hardwood
Carpet removal costs $150 to $250 on average. Add that onto your new install costs. However, most installers include that price in their estimate. Besides removing the old carpet, pad and tack strips, there shouldn't be any additional fees.
Consult with a Pro When Replacing Wood Floor Boards
Compare Hardwood Floor Costs vs. Other Materials
"One of the biggest benefits of solid wood flooring is that it can be sanded and refinished multiple times, so it's most likely the last flooring you will ever have to buy for your home."
Dan DiClerico
, Smart Home Strategist and Home Expert.
If you're installing solid wood floors, don't try it yourself. Improper installation not only looks bad, but can warp, split and shrink to leave gaps. Find local hardwood flooring installers who will take the time and bring the experience to get them looking professional.
If you're looking to save some money and want to try your hand at installing it on your own, use an engineered floating floor. They're quite a bit more forgiving then hardwood and easy to fix any small mistakes. However, if you don't have a long weekend set aside to prep and install your new planks, hire a contractor.
FAQs
What is the most durable wood floor?
The most durable wood floors include bamboo, teak and Brazilian walnut.
How do I calculate how much hardwood flooring I need?
To calculate how much flooring you're need, first find the area of the room and divide that by the area of each box of flooring. Then, add 10% to that figure for overage and waste. You'll need to purchase that many cases.
Where can I buy hardwood flooring?
You can buy hardwood flooring from large home improvement stores, flooring specialty stores, and your professional installer can purchase it for you.
Hire a Local Wood Flooring Installer Near You
Thank you for submitting your feedback.