Cost to Build a Closet
The cost to build a closet averages $2,010, with a typical range between $1,085 and $2,944. Prices depend primarily on size. Walk-ins are $750 to $3,500, compared to $250 to $1,500 for a reach-in. Solid wood doors and other high-end additions can run the most.
Building a closet can give you additional storage space and make a room feel more like home. Here are some factors to keep in mind as you consider your options.
On This Page:
Custom Closet Cost Per Square Foot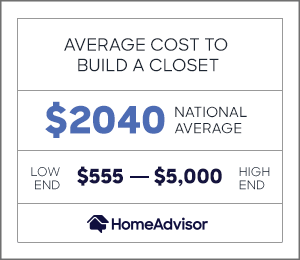 Custom closets cost $17 to $30 per square foot. You'll pay the least if you are building it into an existing space, like an unfinished basement. You can expect to pay more for a complicated layout, or if you need to relocate a load-bearing wall.
New Custom Closet Prices by Type
New custom closet prices range from $250 to $6,000, depending on the type. Reach-ins tend to be the least expensive, while a built-in wardrobe runs the most.
| Type | Cost |
| --- | --- |
| Walk-in | $750 - $3,000 |
| Reach-in | $250 - $1,500 |
| Built-in Wardrobe | $1,500 - $6,000 |
Find Closet Builders Near You
Cost to Build a Walk-in Closet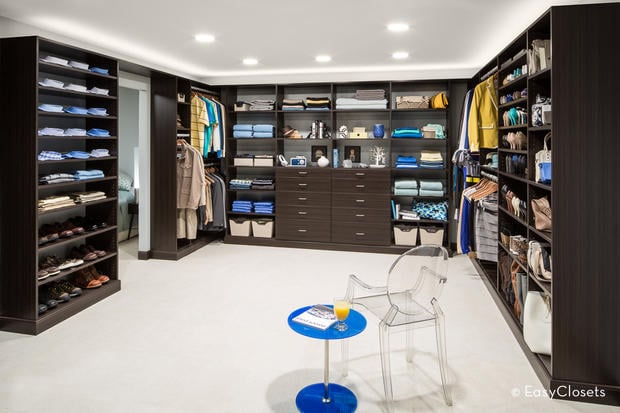 The cost to build a walk-in closet ranges from $750 to $3,500, depending mostly on size. If it's on the smaller side, like 5 feet by 5 feet, you can expect to pay $750 to $2,000. By comparison, a 100 square-foot layout runs $2,000 to $3,500.
Walk-in closets are most common in master bedrooms because of their versatility and storage options. For larger sizes, you can also add amenities like a vanity, center island or dressing area.
Reach-in Closet Installation Cost
Reach-in closet installation costs $250 to $1,500. Given the smaller dimensions, price depends mostly on the level of drywall finish and the type of door.
For smaller projects, a lower square footage can make the price seem higher. Pros tend to charge more to hang drywall for a space that's 3' x 3' than one that's 12 feet by 12 feet. As such, you may get a better rate if you plan to build several reach-ins at the same time.
Built-in Wardrobe Costs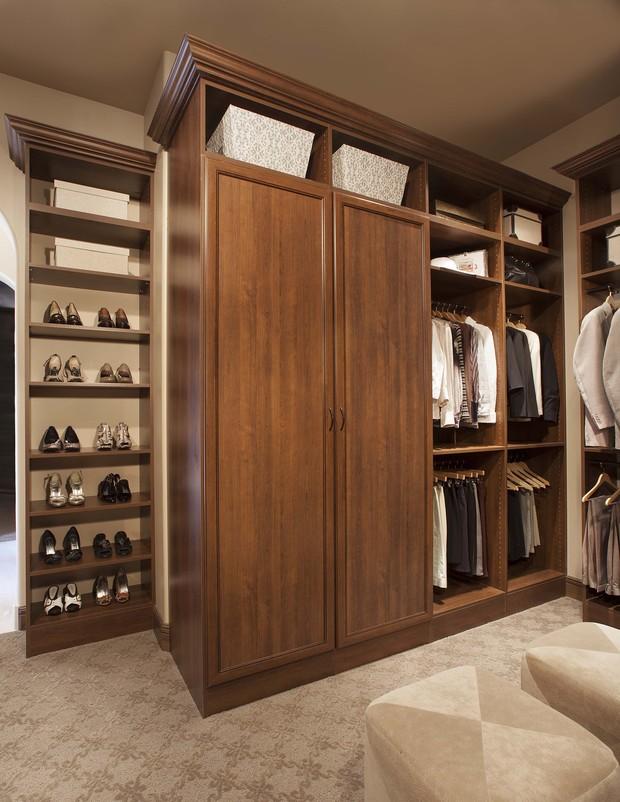 A built-in wardrobe costs $1,500 to $6,000. The total depends on the size and the customization.
Built-in wardrobes combine a reach-in design and organization for a seamless feel that's right on your wall. It's a great choice if you'd like more storage space but don't have the depth for a full closet.
Compare Quotes to Build a Closet
Average Cost to Build a Closet in a Bedroom
The average cost to build a closet in a bedroom is about $750 to $1,000 for a reach-in, and $2,000 to $2,500 for a walk-in. Prices depend on the size and whether or not the framing is already in place.
Closet Installation Cost Factors
Closet installation cost factors depend on the state of the space. If you're building a large custom design or converting a reach-in to a walk-in, you'll be more likely to need these services:
Some local municipalities require permits before building a closet. Research the necessary licenses for your area before you begin construction. Up-to-code improvements to your home will make selling your house easier and help you avoid fines.
Closet Remodel & Renovation Cost
Closet remodeling and renovation costs range from $1,000 to $3,000 for most projects. For example, if you already have framing in place, you'll pay less. If you have to relocate a wall or rehang drywall, you'll pay more.
Talk to Closet Builders Near You
DIY vs. Hire a Closet Installation Pro
Given the complication of this project, it's best to hire a professional to do the job. A pro can confirm that the space meets your specifications and that the walls will support weight. That's important for any organization tools you want to add. Options may vary among contractors, so be sure to request estimates from at least three closet builders near you.
FAQs
How much does closet organization cost?
The cost to install closet organizers ranges from $900 to $2,500. A custom-built organizational system offers personalized solutions to maximize storage and keep it clean.
If you're not in the market for custom organization, consider these budget-friendly solutions:
Shelving units
Hanging bags
Valet rods
Shoe boxes
Plastic bins
What's the difference between a closet and a wardrobe?
A closet is a permanent feature of the room that stores clothing or other items. A wardrobe may be built-in or freestanding, designed mostly for clothing.
Do built-in closets add value?
Built-in closets usually add value to a home, but it depends on the project. For example, adding a walk-in to the master bedroom helps a home compete on the market. But if you convert a bedroom into a closet, you may lose value.
How much do California Closets cost?
The cost of California Closets depends on the complexity of the layout and the finishes. To get an estimate, you'll need to schedule a design consultation.
How much does Closets by Design cost?
Closets by Design costs depend on the size and features. You'll need to contact a location near you to check pricing.
Still Have Questions About Building a Closet?
Thank you for submitting your feedback.