Excavation Costs
A typical residential excavation job runs between $1,447 and $5,278 with an average of $3,266. Though most companies charge anywhere from $40 to $150 an hour, residential jobs receive project bids. Project bids reflect cubic yards of dirt moved, anywhere from $50 to $200 per cubic yard. Land excavators are subcontractors who rarely oversee entire jobs - though you can hire one directly for things like digging a hole for a swimming pool or a trench for new utility lines.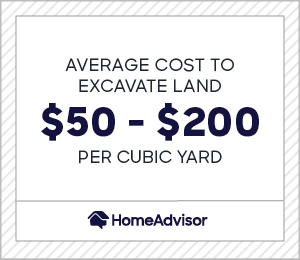 In residential settings, a land excavator prepares a site for development by removing trees, digging and grading the land in preparation for home foundations. If it has to do with dirt - dirt removal, cut and fill, land clearing, digging, compacting, and land prep - these earthmoving experts do it. Although the specific machinery used for excavation may vary depending on the size of the lot and the plant life already in place, the most common choices are either an excavator, backhoe loader or tracker with a backhoe attachment. The exact cost will depend on several factors, but this guide helps homeowners estimate expenses.
Thank you for submitting your feedback.