Outdoor Fireplace Cost
An outdoor fireplace will cost anywhere between $1,500 to $20,000. On average, it will run you about $3,000 to have a fireplace built. Pre-made kits and unfinished contractor models usually only run from $1,500 to $9,000. Custom projects typically cost between $8,000 to $20,000 - some even hitting $50,000. Only budget and space limit the possibilities.
A fireplace adds a focal point to your outdoor living space. It's great for three or four-season entertainment. Fireplace costs range drastically due to two main factors: size and material. For gas and propane types, you'll need a gas line installed. Also, you may need electric lines installed for fans, outlets and kitchen appliances. Central to a perfect outdoor space is proper planning. For a unique addition that blends perfectly your current home with your outdoor living space, hire a landscape designer or brick mason.
Average Outdoor Fireplace Cost
| | |
| --- | --- |
| Average Cost | $3,000 |
| High Cost | $20,000 |
| Low Cost | $1,500 |
Costs to Build an Outdoor Fireplace
Fireplaces range from $1,500 up to $20,000 depending on whether you choose prefabricated kits or custom work. Contractors will charge anywhere from $300 to $1,000 to install a pre-made kit. Prefabricated kits lean toward minimal labor costs while custom work requires highly skilled labor - and a lot of it. For custom work, masons charge by the project. However, the underlying hourly rate runs from $70 to $150 per hour depending on the material type and the difficulty of the project.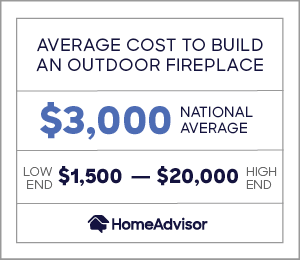 Prefab Fireplace Kits vs. Custom Builds
Prefabricated kits run anywhere from $200 for a firepit kit all the way to large stone fireplaces for just under $9,000. Most kits tend to fall in the $1,500 to $5,000 range. Some customizable kits are available for a couple thousand more.
Custom work tends to run from $8,000 to $20,000. However, it's only limited by your budget. Outdoor living spaces complete with kitchens, ovens, pergola's, and decks or patios quickly top $100,000. But putting the entire outdoor living space together at the same time can save labor costs and give you a coherent look.
Talk to a Pro about Custom Builds
Average Fireplace Prices by Material
The materials you choose and the type of fireplace all play into final costs. Keep in mind these costs include a range of prefabricated kits to custom work. However, with custom work, budget and space only limit the design. Additions, like a grill or pizza oven, can jump costs even higher. Discuss options with a professional designer or mason specializing in outdoor living spaces.
Price by Material for Outdoor Fireplaces

| Material | Average Range |
| --- | --- |
| Stone | $1,500 - $20,000 |
| Brick | $1,500 - $20,000 |
| Metal | $100 or more |
Stone
Stone fireplace kits run between $1,500 to $8,000. Custom work can easily surpass $20,000. The size of the fireplace is going to decide your final costs. When choosing a professional, find a mason who specializes in stonework.
Brick
Much like stone, kits will run between $1,500 to $8,000. Custom work can also exceed $20,000. Both stone and brick are excellent choices for installing a pizza oven, grill or a complete outdoor kitchen for $2,000 to $20,000 or more.
Metal
Metal fireplaces have a modern look. There are no metal kits besides premade portable firepits and chimeneas for anywhere from $100 to $500. For a built-in metal fireplace, you'll need to contact a metal worker for a custom project. Speak with your contractor or designer for a quote.
Costs by Fuel Type
| Type | Average Range |
| --- | --- |
| Gas | $750 - $6,000 |
| Propane | $200 - $5,000 |
| Wood-burning | $1,000 - $20,000 |
| Electric | $200 - $5,000 |
Gas
Prefabricated natural gas fireplaces run between $750 to $6,000. Installing the gas line and the fireplace size affects cost. Custom work prices will vary depending on the type of material used.
Since the fireplace needs a gas line, obstacles like pools, retaining walls and decks play into installation costs. Installing the pipe alone will cost about $25 per linear foot. Plus, figure any patio, pool or deck repairs into the cost. However, the upside is a smoke-free, clean fireplace with little or no maintenance and cleaning.
Propane
Propane is a type of gas fireplace with a standalone propane tank. Kits run from $200 to $5,000, though you'll need to budget another $100 to $500 annually for a propane tank. Burying a propane line will run about the same as a gas line, or $25 per linear foot without any obstacles. Some natural gas types can run propane with a conversion kit for around $50.
Wood-Burning
Wood burning types tend to run between $1,000 to $6,000 for a kit or anywhere up to the $20,000 mark for custom work. Wood burning needs no lines or connections to the house for most units. Installing electrical lighting, outlets or fixtures will require running a line to your home for an additional $300 to $1,000.
Some disadvantages include regular cleaning and buying or splitting, curing and storing wood. Many of these models include storage for fire tools, maintenance equipment and wood.
Electric
An electric outdoor fireplace is nothing more than an electric heater with the look of fire. This type usually comes as an insert for stone, brick and other types of fireplace surrounds. Some standalone varieties are also available. Inserts and independent units run from $200 to $1,000. Stone and brick surrounds cost between $3,500 to $5,000.
Hire a Pro to Build Your Outdoor Fireplace
Belgard Kits & Other Top Brands
Installation costs will be about the same across brands when buying kits similar in size and material. Kits are usually modular, meaning you can start with just a fireplace and a mantle, wood boxes, grills and pizza ovens. As you add on, the price goes up. The actual cost factors will come down to your location and available space. Installation in New York City and other urban centers are much higher than most rural settings.
Kit Costs by Brand and Model

| Brand | Model or Series | Cost |
| --- | --- | --- |
| Belgard | Bristol, Jamestown & Brighton , Wexfor | $2,000 - $12,000 |
| Unilock | Tuscany, Moda, Bella & Ventana | $7,500 - $12,000 |
| FlameCraft | Finished and Unfinished | $4,500 - $7,000 |
| Techo-Bloc | Foyer | $2,000 - $5,500 |
| American Fyre Designs | Mariposa, Phoenix, Manhattan, Firefall & Cordova | $5,500 - $10,000 |
Unfinished Fireplace/ Contractor Kits
You may consider an unfinished fireplace for between $1,500 to $3,500 then finish it with custom stone veneer for $11.50 to $23.50 per square foot. Unfinished kits - also known as contractor kits - are usually unfinished concrete waiting on a veneer. Think of it as a half-prefabricated fireplace with the final look completely customizable. You'll need to attach veneers made from stone, brick, tile, stucco, or just about any fireproof exterior material. This gives you a price advantage of a prefabricated kit with a completely customizable finished look.
Installation Cost Factors
utdoor living brings the amenities of relaxation and dining to the outdoors and enhances the beauty of your home. But it all comes at a cost. Location, size and adding amenities will all come at a price.
Size: Big vs. Small
Size is the single largest factor in your budget. The larger it is, the more it will cost. A small premade fire pit can be as little as $400 professionally installed. A 15-foot-tall wood burning fireplace with mantle and two wood boxes can easily run $20,000. Your available outdoor space also plays a significant role - some locations have code requirements for chimney heights.
Backyard Location
The distance from your home to the fireplace changes cost only if it need utilities like gas or electric run to it. Utilities will cost about $15 to $25 per linear foot. An extra 25 feet away can end up costing you an extra $600 or more.
Fireplaces With or Without Chimneys
Wood fireplaces need a chimney, gas and electric sometimes have them for aesthetics or need them for code requirements. Adding a chimney comes with a $1,000 to $2,000 average additional cost. Kits will come with chimneys preinstalled while custom costs about $100 to $200 per linear foot.
Adding to an Outdoor Kitchen
Outdoor kitchens cost an average of $11,000 nationally. Individual configurations are going to vary that cost anywhere from about $3,000 to $19,000 but can go as high as your budget. Some even come in as high as $50,000. Outdoor kitchens include anything from just a grill or oven all the way to a full kitchen complete with a dishwasher, bar and refrigerator. High-end outdoor kitchens may even have an awning, roof or pergola cover.
Outside Fireplaces with Brick Pizza Ovens
A brick pizza oven, good for cooking more than just pizza, can double the cost. Pizza ovens are separate from the fireplace but built to match. They'll run you between $1,500 to $4,500. However, high-end prefabricated pieces, like the Unilock Tuscany Brick Pizza Oven, cost over $10,000.
Adding an Enclosed Patio, Deck or Pavilion
A matching patio or deck lifts the outdoor living space. Building a deck costs a little more than $7,000. Installing an enclosed patio costs more than double at $15,500 on average. Though size still matters. A large enclosed patio can set you back $40,000 or more.
Fire Pits with Chimneys
Outdoor firepits are both budget-friendly and create a central focal point for larger outdoor areas. They allow more seating at a lower cost. Prefabricated firepits and chimineas cost as little as $100 for a portable version and up to $1,000. In-ground kits run between $500 to $4,000 depending on whether you end up going with or without a chimney. Most firepit kits do not come equipped with a hood and chimney. Chimney hoods are required when used near a home, in a gazebo, under a pergola or beneath a deck awning. For an in-ground firepit with a chimney, hire a professional contractor for custom work.
Talk to an Outdoor Fireplace Pro Near You
Maintenance & Repairs
Owning an outdoor space means maintenance, cleaning and sometimes repairs. An outdoor fireplace needs cleaning just like its indoor counterpart. You'll spend between $100 to $300 for annual fireplace cleaning.
Weather damaged stonework repairs cost an average of $450. This usually consists of repairing loose or cracked stone or brickwork due to weather damage. Some fireplace repairs cost upwards of $3,000. Repairing cracks early stops them from becoming worse.
DIY vs. Hiring a Local Contractor
You can buy some custom plans online for about $50. Add materials for anywhere from $500 to $5,000 or more depending on material type and the fireplace size. Installing a premade kit only requires about two to four hours of labor coming in between $200 and $1,500.
When it comes to custom work, it's mostly labor costs, running anywhere from $70 to $150 or more depending on your location and the type of materials you choose. To meet code requirements and safety concerns, it's best to consult a professional contractor before starting any fireplace project.
Affordable DIY Material Costs
Taking the cheap route by investing some sweat equity into your home still comes at a slight cost for materials. A great way to save money is purchasing an unfinished kit and doing the veneers yourself. It'll take longer than a finished premade kit, but you'll save money and have a customizable look.
Most kits come with everything you need for one price, like the brands listed above. However, you can also buy separate pieces and assemble them yourself. Besides the costs listed below, you'll need to budget $200 to $500 for equipment. If you're pouring concrete footings or a pad, you'll need to budget an added $1.50 to $2.50 per square foot for concrete mix and fiber or rebar reinforcement.
DIY Outdoor Fireplace Costs

| Material | Cost |
| --- | --- |
| Unfinished/Contractor Fireplace | $2,000 - $5,000 |
| Brick | $8 to $10 per square foot |
| Stone Veneer | $6 to $9 per square foot |
| Natural Stone | $15 to $30 per square foot |
| Mortar | $25 per 10 lbs. |
Tips for Hiring a Masonry Builder
Know how to find the right Mason.
Get multiple quotes.
Compare reviews and past work.
Look for a mason who specializes in outdoor living spaces.
Cheap DIY Fireplace Solutions
If the budget isn't there, you can always switch from a fireplace to a firepit and do it yourself. Make sure you follow all code requirements for safety - including allowing for minimum safe distances from the home, deck and any overhanging trees. Installing a DIY firepit only requires digging a hole in the ground or stacking landscaping bricks then inserting a metal fire pit insert. Clear the area around the pit of combustible materials and consider a wire spark arrestor to cover it. Total cost: about $150 to $500.
Thank you for submitting your feedback.