August 6, 2021
Reviewed by Tara Dudley, Landscape Designer, Landscape Project Cooridantor and Owner of Plant Life Designs.Written by HomeAdvisor.
How Much Does It Cost to Regrade a Lawn?
Resloping a lawn requires reshaping the existing earth. The average cost is between $1,987 with a typical range between $970 and $3,005. The cost to hire a landscaper for labor falls between $50 and $100. Fill dirt is priced at about $15 per cubic yard and required to fill in the slope.
People change the slope of their lawns for many reasons. It can be cosmetic or practical. You may need to direct water away from the foundation of your home, or you may need to retain moisture where your lawns and gardens are. A few factors affect the price of resloping a lawn no matter what the reasons are.
Most homeowners pay roughly $1,987 to level their yards. This price increases and decreases based on the severity of existing slopes. Several factors affect this amount. One is the amount of fill dirt required. Most locations sell it per cubic yard with an average of $15. Landscapers also charge different hourly rates, starting at $50 per hour.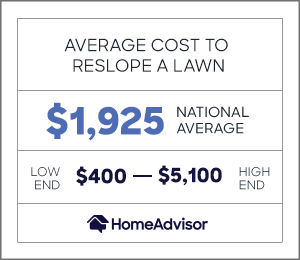 Areas subject to erosion require more service and might need repeated grading to keep the soil in place. Each regrade can add an extra $400 to the original price.
How Much Lawn Resloping is Necessary?
The single largest factor in the cost is how much you need to change the direction of the current slope. If your lawn makes a steep downward turn in one direction and you need to have it slope dramatically in the other direction, that will require considerably more effort (and money) than if it just needs a slight resurfacing. Steep slopes result in severe erosion. Areas with deeper and large gradients require more resloping to create a flat area. Below are the average costs for different types of hills. You can calculate slope by dividing the change of elevation by distance. This means 30 ft. / 100 ft. = slope of .3 or 30%.
Leveling Costs by Severity of Slope

| Type | Cost | Slope Definition |
| --- | --- | --- |
| Deep | $1,800-$5,000 | 0-9 Degrees |
| Hilside | $1,000-$2,500 | 10-15 Degrees |
| Shallow | $400-$1,800 | 16 and Above |
These prices include the costs of fill dirt and a professional's wages. The amount of resloping required is based on the existing yard's gradient. Shallow slopes have low gradients and require fewer materials. A deep slope has a large gradient and needs more fill dirt and labor.
Dirt Needed for Filling & Grading
Fill dirt is extremely inexpensive. People can purchase
a cubic inch for $0.0001 each
, or less than a penny. Individuals measure slopes by cubic inch and then convert the number to cubic yards to discover how much filling they need.
One cubic yard is 46,656 inches
. Enough dirt to fill one cubic yard ranges in price from
$8 to $15
.
Professional landscapers will calculate the amount of soil required on their own and incorporate it into their total price. DIY homeowners need to determine the size of the slope and the quantity of dirt themselves. This is done by measuring the area's length, width, and height. The homeowner multiplies these together to get the area in cubic inches, which than must be calculated into cubic yards.
How to Calculate the Amount of Fill Dirt

| Size of Area to Fill | Area in Cubic Inches | Area in Cubic Yards | Est. Cost of Fill Dirt |
| --- | --- | --- | --- |
| 120 in. X 120 in. X 2 in. | 28,927 | 0.62 | $7 |
| 120 in. X 120 in. X 6 in. | 86,314 | 1.85 | $21 |
| 120 in. X 120 in. X 12 in. | 172,627 | 3.7 | $41 |
Quality of the Soil
The quality of soil used in a yard determines the health of grass and other plants. It's important to figure out the quality of pre-existing soil so the resloped area matches the growth rate and health of the entire yard.
Soil tests cost
between
$700 and $1,800
when done by a pro. Some inexpensive tests are only
$400
.
Fill dirt runs $8 to $15
based on the amount of nutrients present. High-quality variants will cost more.
Including Landscape Clearing or Excavating
Sometimes property owners need to fully clear or
excavate their landscape
. If your property site on compacted soil with a lot of rock, the efforts to reslope it will be a lot more work than if you are just digging up loose soil and redistributing it elsewhere on your property. The
overall cost of excavation
varies by location.The average cost for work is
$2,700
, but most homeowners will pay
between $400 and $1,000
. Most
excavators charge
between
$0.20 and $0.30 per square foot
and add the price to their professional estimate. The extra expense covers running the equipment, including machines like a hydraulic shovel, power shovel, or grader. These require special licenses, so yard excavation is not something most homeowner can DIY.
Erosion Control
Any time that you dig up the ground and put it somewhere else, you run the risk of having erosion issues. The earth sliding or moving from natural elements counts as erosion. One way to enable erosion control is to plant living and rooting plants. This is a great way to keep the earth from running off with the first rainstorm. Another method is to install wooden or metal edging or bracing where you have moved the new soil. Either way, when resloping your lawn, consider erosion control factors as part of the cost of the resurfacing.The process of erosion can break down even the healthiest yard. Groundwater, rain, wind, and other elements can cause soil to shift and ruin leveling. Professionals use several methods to combat this natural phenomenon. These methods have varying price points:
Retaining walls are the most expensive option but also the most long-lasting. Applying sod might have to be done annually while spreading mulch might need to happen multiple times a year. This is reflected in the prices of each method.Most leveling experts can also build retaining walls. Heavy sod and mulching can be done by a landscaper who will likely have lower hourly rates. Many landscapers can also bring their own supplies at cheaper rates than a homeowner would find at the store.
Hire a Landscaper to Help Prevent Erosion
Return to Top
Reasons to Regrade your Land
There are many reasons for a homeowner to regrade their land. Most importantly, the process can save people money in the long run by stopping some of the problems of sloped areas. These issues include:
High levels of erosions
Difficulty landscaping
Difficulty reaching the home
The last two reasons are matters of convenience while the first can save homeowners a lot of effort and money. Erosion pulls soil, mulch, and valuable nutrients away from the yard, which can kill the plants and cause unusual slopes and gradients. A standard re-sodding or re-mulching can cost between
$150 and $380
each time. This money adds up.
Grading for a Driveway: Similar to grading a yard, the average cost is between $700 and $1,000 for 125 square foot, or about $5 and $8 per square foot.
Leveling Around Your House for Your Foundation: Includes bases for houses, barns, sheds, etc. Most home foundations will be between 500 and 1,500 square foot.
Resloping to Install or Repair a Patio, Deck or Porch: Resloping around an already existing structure costs slightly than regular work. Homeowners typically pay between $12 and $20 for each full, cubic yard.
Sloping for a new Fence: The cost for sloping to install a new fence varies by materials and area covered. People can expect to lose $10 to $18 per cubic yard to regrade or fill the lawn.
Consult with a pro when leveling your yard
Return to Top
Terraced Backyard Cost Estimate
A terraced backyard is a lawn which has been separated into several flat sections of differing heights. The price can vary from
$1,000 to $10,000
. Most people pay around
$3,800
for the entire yard. Prices have extreme variations because some lawns will require retaining walls and others will not. The process of terracing a backyard is different from grading because the areas need to be raised or lowered to create the step-like landscape. Both sections will then need to be flattened afterwards.Some of the factors involved and their average prices are:
Sod Removal: $2.00 per square foot
Fill Dirt: $8 to $15 per cubic yard
Grading: $1,000 - $2,000
Building Retaining Walls: $2,800-$7,800
Reseeding or Re-Sodding: $1,000-$2,700
Return to Top
DIY Grading
Grading a yard is the process of leveling the area. Some homeowners can DIY this project but amateur landscapers should be aware of the risks and costs.
Equipment and Tools Needed
An individual seeking to DIY would need several cheap and expensive tools. The simplest procedure would require:
String level: $1 to $3
Grader: Can be rented for $500 to $600 a day
Sod cutter: $200 to $2,000 depending on the size
Shovel: $6 to $10
Stakes: $5 to $10 for a pack of 6
Doing the project alone or with friends can take
up to 3 or 4 days for a medium-grade slope
. The cheapest a person could DIY would be for about
$1,200
. This assumes that the grading can be done in two days and that you can find a cheap sod cutter. A more realistic price would be
$1,800
since decent sod cutters are expensive. In comparison, hiring a pro would also cost an average of
$1,800
for several days of work, including manpower.The decision then comes down to whether or not you want to put in the work. Doing a project yourself comes with several risks. Amateurs who are unfamiliar with this equipment could destroy their yard. The sod can be improperly removed and require the lawn to be reseeded. Most importantly, inexperienced homeowners can hurt themselves using heavy machinery.
How to Flatten Your Lot
DIY homeowners will not be able to flatten as large of gradients as professionals. However, they can still complete some jobs. Perform these steps if you want to flatten your lot:
Stake out your area
Set up a string level
Remove the grass
Lay down a ground cover
Spread the top soil
Tamp the soil
Reseed as necessary
Pitfalls of DIY Landscaping
DIY yard leveling is difficult work. Some of the pitfalls include:
Being unable to find the right equipment like a mini bulldozer, an excavator, and a Bobcat.
Lacking the training to identify problem areas.
Damaging underground pipes and wires.
Using the wrong soil.
Even if someone plans to level the yard by themselves, many professionals are still willing to give tips, help people learn, and even rent the proper equipment.
Hire a Grading or Leveling Professional
Return to Top
Working with a Grading Service
A grading service is a company or group of individuals who can level yards, walkways, and even roads. It's important for people to check for the proper equipment and experience when hiring.
Yard grading in your area
can be simple to find. Afterwards, it's up to you to determine who is trustworthy.Some of the benefits of hiring a professional include:
They bring their own equipment
Can identify areas which need protection against erosion and drainage
They can find soil of a similar quality to fill in patches
Return to Top
Thank you for submitting your feedback.