Floor Repair Estimates
Repairing flooring (vinyl, wood or tile) costs $363 on average or between $191 and $537. Because pros need to go through this layer to get to the structural elements of subfloors and joists, expect to pay far more for structural repairs. It runs $40 to $60 per square foot for structural repairs. Repairing joists runs anywhere from $10,000 to $20,000 for a 300 square foot room, depending on the extent of the damage.
Your floor is more than just tile or hardwood. Three to four layers make your floor both beautiful, comfortable and durable. On top sit coverings, like carpet, tile, vinyl plank and classic hardwood. But this top layer, which takes the brunt of the foot traffic, needs the support of joists and a subfloor. We'll cover the costs of repairing each layer below.
On This Page
Floor Layer Costs: Covering, Underlayment, Subfloor, Joists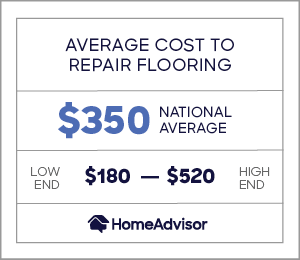 You'll spend anywhere from $200 to $20,000 to fix a floor. That giant range comes from the different layers from the cosmetic top to the structural joists and you'll often need to redo one layer just to reach the next. For example, if you have rotten subfloors, you'll need to tear out the top layer just to reach it, that means installing all new flooring.
On the low end, you might just need a few boards replaced, which might run only $200.
In an extreme case, such as rot and mold from flooding, you might have to tear out an entire floor including the hardwood, subfloor and all the joists which could cost $20,000 or more.
Floor Repair Cost Ranges

| | |
| --- | --- |
| Covering (carpet, tile, plank) | $200 - $800 |
| Subfloor | $500 - $700 |
| Joists | $1,000 - $10,000+ |
Before diving too far into costs, it's important to understand the differences and purposes of the covering, underlayment, subfloor and joists.
From the top down:
Installing the cosmetic floor coverings costs $2 to $30 per square foot. These include carpet, hardwood, vinyl, stone and natural tile. It's the layer you see and walk on.
Underlayment costs $0.50 to $5 per square foot to install. Not every room has this layer as it's only helpful for stopping squeaks, installing under-floor heating or leveling.
Repairing subflooring costs $500 to $700 with replacement running about $2,500 per room. It's installed as part of the initial construction of your home. This layer, generally made from OSB or plywood, covers the joists.
Joist repairs cost as little as $300 to $5,000 or more for large replacement jobs. These beams provide the main structural support for the floor.
Floor Repair vs. Replacement Costs
Depending on the layer you're fixing, it'll run anywhere from $150 to $800 to repair your floors. You'll spend $800 to $20,000on replacements, depending on the layer you're fixing or replacing. For the covering, installing new flooring costs $1,500 to $4,500.
| | | |
| --- | --- | --- |
| Covering (carpet, tile, plank) | $150 - $800 | $800 - $7,000 |
| Subfloor | $500 - $700 | $1,800 - $3,000 |
| Joists | $200 - $300 each | $5,000 - $20,000 |
Floor Repairs Cost by Square Foot
Floor repairs by the square foot cost anywhere from $2 to $30 or more. It really depends on what part you're getting fixed. Keep in mind that repairing a lower level usually means redoing the one above it. Give your contractor the exact square footage of your project to get the most accurate quote. You can expect to spend within the following ranges:
| Layer | Cost Per Square Foot |
| --- | --- |
| Coverings (carpet, vinyl, tile, planks) | $5 - $30 |
| Subfloor | $2 - $10 |
| Joists | $10 - $60 |
Floor Joist Repair Costs
Repairing floor joists costs $40 to $60 per square foot. That cost breaks down between labor and materials:
Materials: $25-$30.
Labor: $15-$30 per square foot or $35-$80 per hour.
Joist repairs mean you'll have to tear up your top layer and the subfloor and replacing them. The exception to this happens in unfinished basements where the joists are visible. In this case, you'll probably pay only $100 to $300 for each joist repair.
Cost to Sister or Replace Floor Joists
| | |
| --- | --- |
| Sistering | $100 - $300 per joist* |
| Minimal replacement | $2,000 - $5,000 |
| Replacing a room | $5,000 - $10,000 |
| Replacing an entire level | $10,000 - $30,000 |
*Does not include the costs of opening the floor or ceiling and repairing them afterward.
Sagging Floor Repair Cost
The cost to repair sagging floors depends on what's causing it to sag. Repairs might include the subfloor, beams and joists. It may even require repairs to the foundation of your home. You'll spend different amounts for these typical situations:
Foundational issues: $1,800-$6,500. Shifts in your foundation, cracks or poorly installed beams might cause your floors to shift and sag.
Rotting joists: $1,000-$5,000. Rotten joists happen from insect damage, water or dry rot.
Damaged subfloor: $300-$2,500. Most often, this happens from water damage.
You can try to DIY diagnose and repair your sloping floors, but it's usually a better idea to hire a professional.
Cost to Level a Floor
Leveling a floor costs $2 to $30 per square foot (or more) depending on the process. For example, some areas with minor low spots might only need a few pounds of self-leveler for $0.50 to $1.50 per pound. On the higher end, areas with poor structural support might need joists sistered, subfloors replaced, and even beams installed to help support the load.
Compare Estimates from the Best Floor Leveling & Repair Pros Near You
Flooring Repair Costs
| Type | Repairs | New Installs |
| --- | --- | --- |
| Carpet | $130 - $300 | $800 - $2,500 |
| Laminate | $320 - $1,200 | $1,500 - $4,500 |
| Tile | $250 - $600 | $1,000 - $ 10,000+ |
| Vinyl | $200 - $1,000 | $800 - $2,700 |
| Hardwood | $400 - $2,300 | $2,500 - $6,700 |
Stained or Faded Carpet Repair Costs
Carpet repairs cost $130 to $300 for minor problems. Extensive damage such as long-term flooding, burns and large areas of discoloration usually call for a tear out and replace. Faded colors and sun-bleached spots might also call for new flooring. Installing new carpet costs $800 to $2,500. For minor staining, carpet cleaning fees run $120 to $230. The most common issues to repair include:
Stains/discolorations
Tears
Seam exposures
Lumps/wrinkles
Laminate Repair Prices
Laminate floor repair costs $320 to $1,200, depending on what you need fixed. Water damage usually requires replacement of the damaged boards. Major water damage might mean a new install. Installing laminate floors cost $1,500 to $4,500. Over time, laminate may present:
Burns, Scratches & Stains. Since they can't be resurfaced, you'll need to replace planks or the entire thing.
Cracks. Cracking often requires replacement since fixes leave visible blemishes in the surface.
Buckling. Can either indicate water damage or structural issues. Contact a professional for an inspection.
Loose areas. If your floor shifts for any reason, boards may loosen up and drift apart slightly, leaving tiny gaps.
Despite laminate's ability to mimic hardwood's appearance, the material cannot be refinished or sanded down. If there is a major stain or burn in your laminate -- or even a deep scratch -- you will likely have to replace a section of plank or more.
Tile Flooring Repair Costs
Repairing tile and grout costs $250 to $600. The actual price will vary by the issue. In rare cases of extreme damage or when you need to repair the subfloor, you might be looking at a complete tear out and replace. Installing new tile costs $1,000 to $10,000. Some common repairs you may encounter with a tile floor include:
Stains and discolorations. Chemical damage necessitates replacement.
Minor cracks and chips. Major cracks require replacing tiles.
Broken tiles. You'll need to remove and replace any broken tiles.
Loose tile. Often easily repaired with new grout.
Cracked grout. Requires redoing the grout in problem areas.
Vinyl Floor Repairs
Repairing vinyl flooring costs $200 to $1,000. Your repair costs vary based on the difficulty of your vinyl medium (i.e., whether you're working with vinyl tile, planks or sheets). Whatever type, the solution requires replacing damaged sections. Burns and tears often mean complete replacement. Installing new vinyl floors costs $800 to $2,700.
For example, replacing a vinyl tile is usually simpler than replacing a sheet because sheet repair requires pairing a new sheet to match the existing flooring exactly. There are a few options you can choose:
Luxury vinyl plank: Extremely durable and easier than other types to repair. Repairs often consist of simply replacing damaged planks.
Sheet Vinyl: It's cheap and easy to install but damage usually means complete replacement for a professional look.
Vinyl Tile: Also, a durable option, it's easy to simply pull up damaged tiles and put new ones in.
Wood Floor Water Damage Repair Cost
You spend anywhere from $1,000 to $2,500 either refinishing or replacing sections of your hardwood due to water damage. If it requires replacement, you're looking at double the price.
Common problems and symptoms of water damaged wood include:
Buckling and/or crowning: Call a professional to identify the cause; then reattach the planks.
Fading/discoloration: Use stains to recolor the wood.
Warping: Identify the source of the moisture and replace affected planks.
Need to Repair Your Hardwood Floor?
Hardwood Floorboard Repair Cost
Repairing wood flooring costs $400 to $1,400. After you've made necessary repairs, you'll probably want to finish the process with refinishing. Refinishing wood floors costs $1,000 to $2,300. Small repairs might run as low as $200 to $650. The most common hardwood flooring repairs include:
Masking small blemishes
Refinishing & resealing surfaces.
Replace one or more planks.
Sanding
Replacing Floorboards Cost
Replacing your hardwood floorboards costs $2,500 to $6,700 for a complete rip out and new install. Doing individual boards or a small section might run you $1,200 to $3,000.
When determining whether to move forward with repairs or a new install, weigh the benefits versus the drawbacks of hardwood. While wood is good for resale value and is durable and easy to maintain, it's also costly to repair.
Mobile Home Floor Repair Cost
Mobile home floor repairs can run from $300 to $5,000 or more depending on the extent of the damage. Like any house, the amount of damage and your flooring type play the largest roles in the final bill. Expect the lower end for stained carpets and steep pricing for structural repairs and hardwood planks.
Small repairs: $300 to $600 for jobs only a few square feet in area and that don't affect the subfloor or structural elements of your home.
Complete mobile home floor replacement costs $1,000 to $3,000 per room. Extensive damage affecting large sections of the floor might run $5,000 or more.
Flooring Condition & Accessibility Price Factors
When looking for quotes, besides regional pricing differences, you'll need to consider both the condition and how accessible the damage is.
Severity of Problem: Price depends heavily on how bad the damage is. For example, a minor stain in a corner of hardwood might easily sand off where large scale warping might mean a complete replacement. At this point you're looking at a difference of thousands of dollars. Major repairs require more of the contractor's time, materials and labor.
Accessibility: How easy it is to access the damage makes a huge difference in price. For example, fixing a first-floor problem in a house with an unfinished basement gives your pro direct access to the problem. On the other end, rotting joists in a second story mean ripping out carpet, hardwood and drywall just to expose the problem.
Compare Floor Repair Quotes to Get the Best Price in Your Area.
DIY vs. Hiring a Professional to Replace Flooring
Always consult a contractor prior to starting any work, even if you're thinking of a DIY fix. You might find that some click lock plank types are great for a DIY fix. For hardwood, carpet and tile call a pro. Each type takes specialized tools, knowledge and experience to do properly. Find a flooring repair service near you to get your floors looking like new.
FAQs
How much does it cost to fix squeaky floors?
Fixing squeaky floors can cost anywhere from $200 to $1,000 or more. It all depends on accessibility. With unfinished basements, it's easy to fix the problem from underneath, but second story floors aren't easy to access. Use screws, shims or shank nails to penetrate through the subfloor and hold the squeaking plank in place.
How much does it cost to replace floor joists in crawl space?
Replacing floor joists in a crawlspace costs $100 to $300 per joist if your pro can easily access the joists. If they are insulated or have any type of covering, you're looking at $1,000 or more.
Are sagging floors dangerous?
Sagging floors typically aren't dangerous. But they do represent an underlying problem that could quickly become a danger to you and your family. Have your floors inspected.
What causes a floor to sag?
Foundation problems including settling of the house.
Improper framing of the house.
Uneven subflooring.
Rot causing joists to decay.
How do you fix a house sagging in the middle?
To fix a house sagging in the middle requires a proper diagnosis of why its sagging. Issues could range from improper dirt work below the foundation to rotten joists in the center of your home. Hire a home inspector, contact an architect or find an engineer near you to find the cause and solution of the problem.
Have another question? Ask a Local Floor Repair Pro.
Thank you for submitting your feedback.