July 08, 2021
Reviewed by Robert Tschudi, Home Building & Remodeling Expert.Written by HomeAdvisor.
Cost of Built-In Bookcases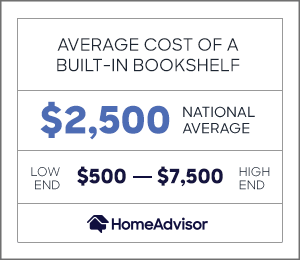 The cost to have built-in bookshelves installed averages $2,677 or between $1,273 and $4,091 for a carpenter to do the job. If you buy the materials yourself, you can usually get a handyman to install them for $30 to $130 per hour. For high end custom work, expect to spend $150 to $1,200 per linear foot. Floor to ceiling installs average $5,000 to $14,000.
Built-in bookshelves & cabinets are sleek, effective solutions when you need to minimize space and clutter. They create a custom solution for storage while increasing your home's appeal with a finished, customized look.
On This Page:
Custom bookcases cost $300 to $1,200 per linear foot. You might find inexpensive premade units you can install for a custom look starting at $150 per linear foot. You'll pay more the larger the piece and the more work hours needed to create and install it.
The type and place you put built-ins dictate how much you'll spend. For example, cabinets in a kitchen or office with ornate doors cost a bit more than open shelves in a bedroom. You can get built-in cabinetry in various forms, including:
Built-In Cabinets Cost
Any cabinet attached to a wall, like those in your kitchen and bathrooms, is a built-in cabinet. But usually, when someone talks about a "built-in", they mean custom work. You have two choices when it comes to budgeting for adding cabinets, premade or custom.
Cost of Built-In Bookshelves Around Fireplace
Putting bookshelves around a fireplace costs the same as any other spot, or $2,500 to $10,000 or more. You may think there might be special considerations for having a book near fire, but those fall more on the fireplace. You might consider a fireplace remodel costing $1,000 to $3,500 to match your new shelving or home designs.
Find Local Bookcase Builders
The materials pros use to build those custom looks only make up 20% to 30% of the cost. The below ranges show not only a wide array of materials, but also denote different complexities. For example, in one linear foot, do you have simple shelves or deep cabinets with ornate doors? More material means more cost.
MDF and sanded plywood fall in the $40-$150 per linear foot once installed.
Furniture grade plywood and hardwoods like poplar and oak run $60-$225 per linear foot.
Glass and premium exotic hardwoods like teak tip the price to the top of the scale at $150-$400 per linear foot after installation.
Cost to Install Built-In Bookshelves
Custom work costs come from the labor needed to install it, which makes up 70% to 80% of the overall price. The quality of the work and the time it takes to do it right will set you back $105 to $960 per linear foot.
Compare Quotes From Local Bookcase Pros
Some of the factors that can influence your total cost for built-in shelves include:
Materials: You can buy shelves made of various materials. For example, veneer plywood can be maple, birch, oak, polar, cedar or pine (yellow pine, Douglas fir. etc.). Or you can use wood boards ("dimensional lumber) in pine, cedar, oak, poplar, etc. Your price will vary, with the dimensional lumber costing a bit more.
Construction: You have three shelf or cabinet choices – premade, semi-custom and custom. The more custom you go, the more you pay.
Design & Fit: Shelving comes in various designs, in terms of width, height, depth and so forth.
Accessories: Along the lines of features, you can add more accessories to your shelving unit for a more personalized look. A coat of paint, accent carpentry or glass doors cost more. You can add a look of elegance with a sliding library ladder, but these are usually best for very tall bookshelves.
If you go DIY, there are plenty of premade options available. You can buy premade shelving units from the local home improvement store but do your research before making a purchase. The cost of the shelving itself will be anywhere from $25 to $3,000 per unit (or more), depending on the size you need. Add on to that the cost of tools, hardware and paint or stain and you'll end up spending anywhere from $100 to $3,500+ to install built-in shelving yourself.
With premade units, you won't always be able to get that custom fit look or the quality of materials you'd get with a professional. Besides risking the investment in premade shelves or cabinets, there is little drawback to trying it yourself. Custom carpenters report the job taking anywhere from a week to two weeks of work. Save yourself the time and headache and hire a local custom cabinet maker or furniture builder near you.
Find Bookcase Builders Near You
Who Builds Custom Bookshelves?
Once you budget for this project and start looking for professionals, keep in mind their experience and contracts. You don't want to hire the wrong type of carpenter with little to no previous experience in this field. Make sure you talk to at least 3 to 4 professionals before settling on the right one, and ask for photos of their work and references. With the contract, be sure to have it include materials, payment schedule, start and finish date, and how the work will be done. That way you can make sure they follow the guidelines and don't ask for extra money if they take too long.
Built-in shelves should lift the look of your home and provide much needed space. Quality custom work isn't cheap and should always start with some serious research. Before you call a contractor to refine your ideas and start the build, make sure you have a perfect picture in mind of what you want. You can start with these ideas: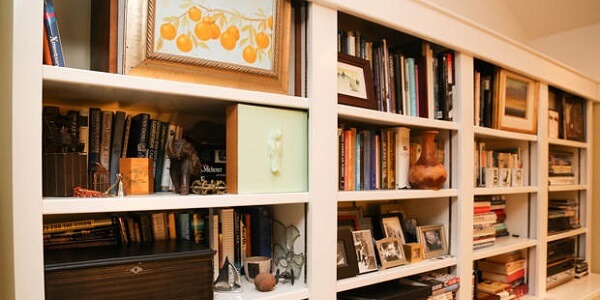 by Alice Carter, Moorpark, CA. Built-in Bookshelves in California cost $1,875-$4,350.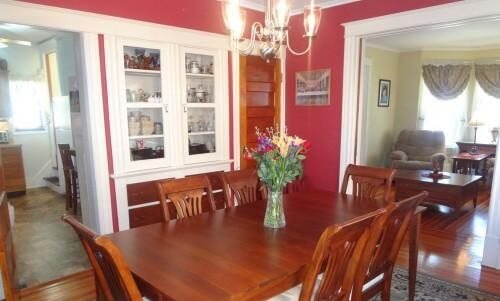 by Coffey and Son Construction, Broadalbin, NY. The average cost of built-in bookshelves in New York ranges from $1,150-$4,050.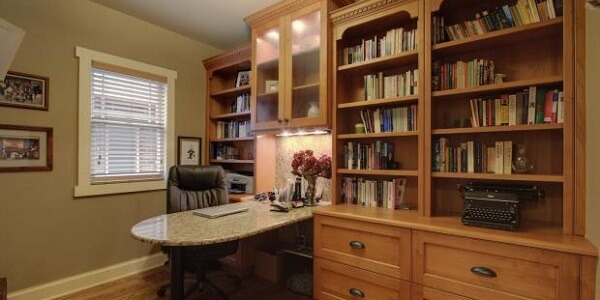 by Gunlock Homes, Inc. Denver, CO. Built-in book shelving in Denver costs $1,125-$3,100.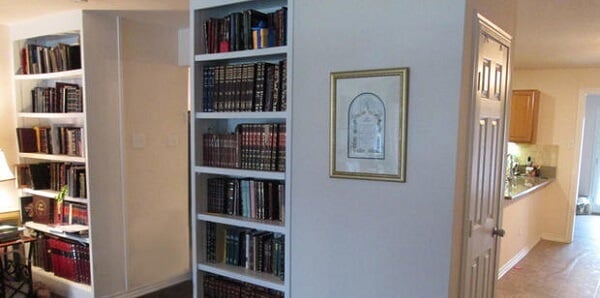 by InSync Home Design, Dallas, TX. The average cost of built-ins in Dallas ranges between $1,150-$2,775.
Compare Quotes for Custom Bookshelves
Do built-in bookshelves increase home value?
Built-in bookshelves can increase a home's value, but by how much is rather subjective. An appraiser may increase the appraisal value slightly for built-ins because they make the home look finished and customized. More importantly, they increase a home's appeal and may make them sell faster. If you are getting an appraisal, be sure to provide the appraiser with receipts or your contract to show how much you paid for the built-in shelves, so they can add it to the appraised value.
Which type of wood is best for built-in bookshelves?
The type of wood you choose for your built-in bookshelves must match your home's aesthetic. Regardless, choose a high-quality furniture grade wood. You'll want something strong, stiff and without much elasticity with good shelf engineering to hold between 20 to 40 pounds per foot. Typical types used in custom work include:
Poplar
Oak
Pine
Maple
Plywood
How big should I make my built-in bookshelves?
You should make your built-in bookshelves large enough to mesh perfectly with the space they occupy. In most cases, this means floor to ceiling and ending at a natural cutoff point, like a door. They're popularly used to frame doors and windows.
Prefabricated common sizes include:
Base Model: 24 inches wide and 36 inches tall
Bookshelf Depth: 12 inches
Wall Height: 5 inches (good for your kitchen or hallway)
For custom sizes, including corner cabinets or suspended units, or specialty items to store, they can be customized to your needs. For taller built-in shelving, aim for 72 to 78 inches so you're able to comfortably reach whatever is on the shelf. Whether or not it will sag depends on your shelving material, the design and how much you load onto it.
Still Have Questions About Bookcases?
Thank you for submitting your feedback.