June 4, 2021
Reviewed by Robert Tschudi, Home Building & Remodeling Expert.Written by HomeAdvisor.
Average Cost to Install an Exterior Door
Installing an exterior door costs an average of $1,093. Most surveyed homeowners report paying between $508 and $1,686. Many new, standard single styles cost $150 to $600 for materials alone, but they can easily reach into the thousands. Pre-hung styles are about $50 to $200 more than slab varieties but reduce labor and frame installation costs by 30 to 50 percent.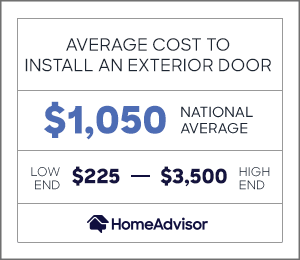 Different types offer a range of styles and purpose. They include everything from ornate custom wood to simple glass patio and screen varieties. More specialized choices, such as sliding, French, and fire-rated all play a unique role in the look and comfort of your home. There are literally dozens of brands with thousands of choices, so costs estimates vary from $150 to $20,000 or more.
| | |
| --- | --- |
| Fiberglass | $150-$2,000 |
| Wood | $500-$3,000 |
| Any material with Sidelights | Add $700-$3,000 |
Aside from materials, unique styles and designs can have a major impact on the look and overall effect. Options vary from simple solid steel, engineered wood or fiberglass to ornate double-entry wooden types with transoms, coordinating sidelights, and intricate glasswork. Most homeowners spend more money on their front doors than any other in their house. It's both an accent and a focal point for the design of your home.
While it is easy to save money by opting for a lower-cost model, there are pros and cons associated with each type. The following breakdown illustrates this concept and highlights the need for homeowners to carefully consider what concessions they are willing to make in terms of cost vs. quality.
Fiberglass Entry Door
Fiberglass doors cost anywhere from $150 to $2,000. Extremely ornate models with sidelights and a transom run $3,000 or more. Fiberglass is a popular option that achieve a wood-like look with increased durability and minimal maintenance needs while providing excellent insulation value. It comes in basic and increasingly ornate varieties.
Basic: $150-$400
Pros: inexpensive, no rust, does not require paint.
Cons: few decorative elements, few glass options, does not enhance curb appeal.
Decorative: $400-$3,000
Pros: no rust, a range of styles that add curb appeal, glasswork, panels.
Cons: more detailed models are expensive.
Steel Front Doors
Steel doors range from $150 to $500 though they can reach $2,500 or more with sidelights and glasswork. Steel is the least expensive option, though less popular because of the harsher metallic look.
Basic: $150-$300
Pros: cheap, well insulated some have glasswork.
Cons: very basic, undecorated and usually unpainted.
Fire-rated: $200-$500
Pros: fire resistant for up to three hours, fire-rated door code compliant.
Cons: needs regular painting and maintenance, no glass, can rust.
Decorative: $200-$2,500
Pros: several styles that add some curb appeal with glasswork.
Cons: needs regular painting and maintenance, possible rust.
Wooden Entrance Door
Engineered wood doors cost only $200 to $500 while solid wood is the most expensive option at $500 to $5,000 or more. Wood is the most traditional and customizable option, but one that requires active maintenance to prevent warping and rot.
Engineered: $200-$500
Pros: inexpensive, no rust
Cons: needs regular painting and maintenance, no decorative element, no glass, does not enhance curb appeal
Decorative Solid: $500-$5,000
Pros: no rust, assorted styles that add curb appeal, glasswork
Cons: needs regular painting and maintenance, more expensive
Entry Doors with Sidelights Prices
Sidelights add an additional $500 to $2,500 to a standard install. Custom work can push the price higher. Sidelights are slim matching windows installed next to the front door and run from the top to the bottom of the frame. The pros and cons of each are the same as listed in the materials sections above.
Sidelight Costs by Material Type

| Material | Door + Sidelights |
| --- | --- |
| Steel | $700 to $3,700 |
| Fiberglass | $700 to $5,000 |
| Wood | $1,500 to $5,000 |
Custom Builds
Custom builds range from $1,500 to $20,000. In most cases, they are anything that goes beyond a basic installation with a standard size door. Extra hardware, changing the frame size and even repairing the rough frame are all considered custom work but only marginally increase price.
However, full custom projects are one-of-a-kind productions from woodworkers and can push the installation prices towards the $20,000 mark. They can also include wrought iron and custom-made windows. This type of work also requires more hours of labor than a pre-hung or standard install.
Back Doors
Back doors generally range from $300 to $1,200 to install. They're priced lower since they don't need to be nearly as ornate as a front entry. They rarely have things like sidelights and transom windows. They often don't even have a window. They are usually cheaper steel, engineered wood or fiberglass models that mimic the front style when painted.
Call Door Installers to Learn More
Labor Cost to Install Pre-hung Exterior Doors vs. Door with Frame
Labor rates run anywhere from $40 to $90 per hour with an average of about $70 per hour. It only takes 2 to 3 hours for a pre-hung door installation vs. 6 to 7 hours for a door with a frame.
Front Door Installation Labor Prices

| Type | Range | Average |
| --- | --- | --- |
| Door with Frame | $240 to $630 | $455 |
| Pre-hung Door | $80 to $180 | $175 |
Exterior or Front Door Installation Cost
Unless it is part of new construction, installing an exterior door when one didn't previously exist has a few cost considerations to keep in mind.
Considerations:
Structural integrity: when cutting through supporting walls, you'll need to install new headers. Costs here can vary greatly so it's best to hire a structural engineer for $100 to $150 per hour at an average of $500 for the project. Most municipalities require a permit for this type of work.
Framing: Framing costs $7 to $16 per square foot. Expect the higher end of that range when installing a load bearing header.
Waterproofing & Sealing: Exterior varieties require proper flashing, house wrap and waterproofing membranes to keep moisture out. This is usually part of the rough frame work. The door itself needs proper sealing for an additional $80 to $200.
Installing a Walkout Basement Door
Installing a walkout basement door runs from $2,500 to $10,000 or more depending on a few factors.
Digging and cutting. For walkouts, the exterior needs to be level with the bottom of the basement. Plus, you'll need to have the concrete wall cut the appropriate size.
Framing: $350 to $800 including a header. Most municipalities require a permit for this type of work.
Materials & Labor: most use a double patio style for $500 to $4,500 including labor.
Patio installation: $1,750 to $4,750.
Glass Types
Glass comes in various configurations in a door. The placement and size of the glass determines the type of view. Insulation values and aesthetics are further determined by the type of glass you use.
Placement & Size of Glass
The placement and size of any glass additions have unique identifying terms. Knowing these terms will help when discussing options with a designer or contractor.
Full-View: One to seven panes of glass that cover the entire area.
Mid-View: Either an oval, multiple squares or a rectangle of glass in the center.
High-View: Glass in the top. Most common in front door applications.
Designer Modern: Single or multiple glass panels in offset patterns throughout. Sometimes a single thin panel running from top to bottom offset from the center.
Type of Glass
You'll also need to know what type of glass you'd like. Type determines the look, security and insulation value of your door.
Double pane: Two panes separated by a gas with moderate insulation value
Triple Pane & Low E: Designed for optimal energy efficiency and insulation value.
Frosted and Distorted: Designed for privacy without additional window shades. They allow sight while blocking visual accessibility.
Stained Glass: usually more expensive and often set in wrought iron, these are for decorative effect only.
Toughened: Glass that has a security rating designed to stop intruders.
Find The Best Local Door Installers
Exterior Door Prices by Type
There are several types of exterior doors, offering homeowners and businesses plenty of choices and features. Each type meets diverse needs such as security, protection, style and function.
Total Cost to Install Exterior Doors by Type

| Type | Material | Labor | Total Project Price |
| --- | --- | --- | --- |
| Fire-Rated Steel | $100 to $500 | $300 to $800 | $400 to $1,300 |
| Double | $750 to $5,000 | $500 to $1,000 | $1,250 to $6,000 |
| Accordion or Folding Glass* | $4,000 to $12,000+ | $600 to $1,800 | $4,600 to $13,800+ |
| Multi-Slide or Telescoping* | $6,000 to $16,000+ | $600 to $1,800 | $6,600 to $17,800+ |
| Patio | $300 to $4,000 | $200 to $500 | $500 to $4,500 |
| French | $400 to $4,800 | $500 to $1,000 | $900 to $5,800 |
| Sliding Glass | $400 to $4,500 | $200 to $500 | $600 to $5,000 |
| Storm | $100 to $550 | $75 to $150 | $175 to $700 |
| Screen | $50 to $450 | $75 to $150 | $125 to $600 |
*per linear foot for a 6 to 12-foot opening.
Fire-Rated Door Cost
Fire-rated steel costs $100 to $500 plus $300 to $800 for installation. Fire rated types are a specific type used to conform to building codes for businesses or enhance safety in residences. Because of their function, they often come with heavier hardware and specialized parts that cause them to close automatically.
They can contain a fire for anywhere from 20 minutes to 3 hours depending on the rating and local code. Installed between the garage and home by building code requirements, they work alongside a home alarm system.
Double
For entryways, most double doors start out at $700 to $5,000. Because of the size, labor tends to be slightly higher at $500 to $1,000 per installation. Lower end varieties tend to be steel and composite with panels and no windows. Mid and high-range pricing types include both wood and fiberglass with more ornate designs, glass and even wrought iron.
Multi-Panel Folding Glass & Multi-Slide Telescoping
Multi-panel types are the most expensive exterior doors available for $700 to $1,300 per linear foot or up to $17,400 for a 12-foot opening. Labor runs about $100 to $150 per linear foot though it will vary by location and installer.
They're a much more modern design than traditional two panel sliding glass or double French patio styles. Homeowners can have folding or telescoping panels designed to suit their space, allowing them to create the effect of a removable wall between the indoor and outdoor areas of their homes.
Folding: $700 to $1,000 per linear foot. Either fold like an accordion or open and then slide. It can extend as far as a homeowner desires and the building will support. Its main advantage is creating an extended opening to unite indoor and outdoor living.
Multi-slide: $1,000 to $1,300 per linear foot. A subtype of the sliding glass style, a telescoping patio style consists of three or more glass panels that slide past each other. It uses multiple tracks for customizable opening options.
Patio Doors
Patio doors cost anywhere from $300 to $4,000 with an additional $500 to $1,000 in labor to install. Though once a hallmark of luxury homes, diverse types of wide patio types in a variety of designs and styles fit into most modern homes at an affordable price.
Besides the front, the patio entry is one of the most common functional design elements in a home. It leads to a backyard patio or deck while visually joining the yard with the interior living spaces and letting in enormous amounts of natural light.
French Doors
French doors have a wide range of prices from $400 to $4,800 with an additional $200 to $1,000 in installation fees. French refers to any types with a full-view or top to bottom window. They can be single or double and both interior or exterior. Offering an elegant, classic look, it is easy to design architectural elements around them.
Sliding Glass
Sliding glass doors cost between $400 and $4,500 though most fall below $2,500. Labor is an additional $200 to $500. With a more modern design and considerably more size diversity, sliding glass patio styles are likely the most popular type in homes today.
Preferred for patios because of their contained design requiring no floor space in any room to open fully. In addition, they not only fit standard 6-foot double-openings but the multi-slide variety can extend even further.
Storm
Storm doors cost $100 to $550 depending on type and setup. Labor is an additional $75 to $150 each. A typical installation runs an average of $350.
Traditionally used to protect the delicate nature of wood, these types serve several purposes. They add extra insulation to a home, offer airflow management, and enhance security with a second lockset. They are available in full-view, mid-view and high-view with several other features including retractable screens, beveled glass, pet entries, Low-E glass, and more.
Screen
Screen doors cost slightly less than the sturdier storm variety at $50 to $450 with labor coming in at $75 to $150. The average screen installation runs $275.
In some climates, a storm door may not be necessary, and a less-expensive screen can take its place. They mount directly to the jamb on the exterior portion. They are popular additions to patio and other entrances where air flow is desirable while keeping insects out of the home.
Get Quotes from Top Door Pros Near You
Pella Entry Door Costs by Type
| | |
| --- | --- |
| Storm & Screen | $230 to $360 |
| Patio | $340 to $1500 |
| Entry | $800 to $3200 |
Pella specializes in exterior types making a wide range in steel, fiberglass and wood. They also make screens in aluminum and wood core. They are mostly known for their patio and entry varieties.
Maintenance & Repairs
Door repair costs tend to be less than replacement with an average of $200. But this repair investment can prevent future damage and makes your home safe from the elements. Beautiful entryways add value in terms of style, design, and function so long as they are looking and performing their best. Protect your investment with regular maintenance.
Wood needs to have regular painting and finish updates to keep them looking fresh and prevent splintering, warping and rot.
Steel requires dents and scratches touched up to prevent rust.
Fiberglass requires the least maintenance but still suffers from the sun and weather.
Screen and storm types need to be kept straight and aligned to the frame to properly do their jobs.
Adding stops or plates on interior walls protects your home from damage.
Occasionally you'll also need to perform basic repairs including fixing ones that stick or eliminating squeaky hinges with a door hinge lubricant that contains silicone, grease, Teflon, or graphite.
Over time, the need to add additional weather-stripping, re-apply insulation, or even add something like a weatherboard may also be necessary.
FAQs
What is the Best Exterior Door for Direct Sunlight?
The best exterior type to get the most sunlight while keeping your home insulated is a patio style with two or more doors with full-view triple pane low-E glass. It'll cost anywhere from $600 to $3,000 depending on material choice, size and style.
What Does It Cost to Close Up an Exterior Door?
To close up an exterior door you'll need to frame in a wall, insulate and install siding and drywall. New wall installation costs an average of $1,800 though expect to add an additional $600 for siding and painting.
What Does Front Door Replacement Cost?
Front door replacement costs an average of $950. You'll be responsible for the cost plus an average $70 per hour for installation.
How Much Does it Cost to Move and Re-Hang an Exterior Door?
Moving a door requires cutting and framing a new hole, closing the existing opening and the cost of installation. Altogether, you can expect to pay anywhere from $3,500 to $7,000 or more depending.
Where Should I Shop for Doors?
Any major home improvement store, such as Home Depot or Lowe's, will offer exterior options and styles that can fit the needs and budgets of any homeowner.
There are also a variety of localized specialty retailers throughout the country that design and do custom builds. Regardless of where you ultimately make your purchase, however, contacting a professional contractor or installation specialist to measure and evaluate the current door and frame is a wise idea.
How Much Does It Cost to Install a Smart Door Lock?
Smartlock costs range from $100 to $400 or as part of a home security system. Most current systems use Wi-Fi or Bluetooth. Most connect via Bluetooth to Android, Alexa and Apple devices. Some examples include:
Schlage Sense Smart Locks: $250 to $350. Connect to most wireless devices via Bluetooth.
August: $120 to $250. Connects to Alexa and uses a smartphone app via Wifi.
Kwikset Kevo: $200 to $250. Allows a touch to open method when used with a smart device.
Call Exterior Door Pros In Your Area
DIY vs. Hiring Contractors
Entryways protect your home from weather and intruders. Improper installation can end up allowing moisture into the frame of your home causing mold and rot over time. Consider hiring a professional due to the long-term consequences of an improper DIY installation.
DIY Considerations & Costs
Installing a pre-hung exterior type is a moderate to difficult home improvement project. Many homeowners attempt this to save money.
It generally involves:
Removing the old door and frame.
Dry setting the new one.
Using shims to level it out so that it swings freely.
Permanently setting it.
Installing insulation, trim and caulk.
Without any damage to the frame or the need to reset the opening, this project should take between 3 to 7 hours and costs less than $100 in addition to the model's price, its hardware, and its lockset. DIY installers need tools such as a drill and screwdrivers, supplies such as weather-stripping, paint for the frame, spray insulation, wood shims, and caulk.
Thank you for submitting your feedback.